19 March 2016, 9pm
Tri-X-Star, Kreuzberg, Berlin
Details request: info@occultomagazine.com
LIVE
M.i.p.V pocket (Músicas Intermináveis Para Viagem)
soundcloud.com/mipv
DuChamp
soundcloud.com/duchamp-1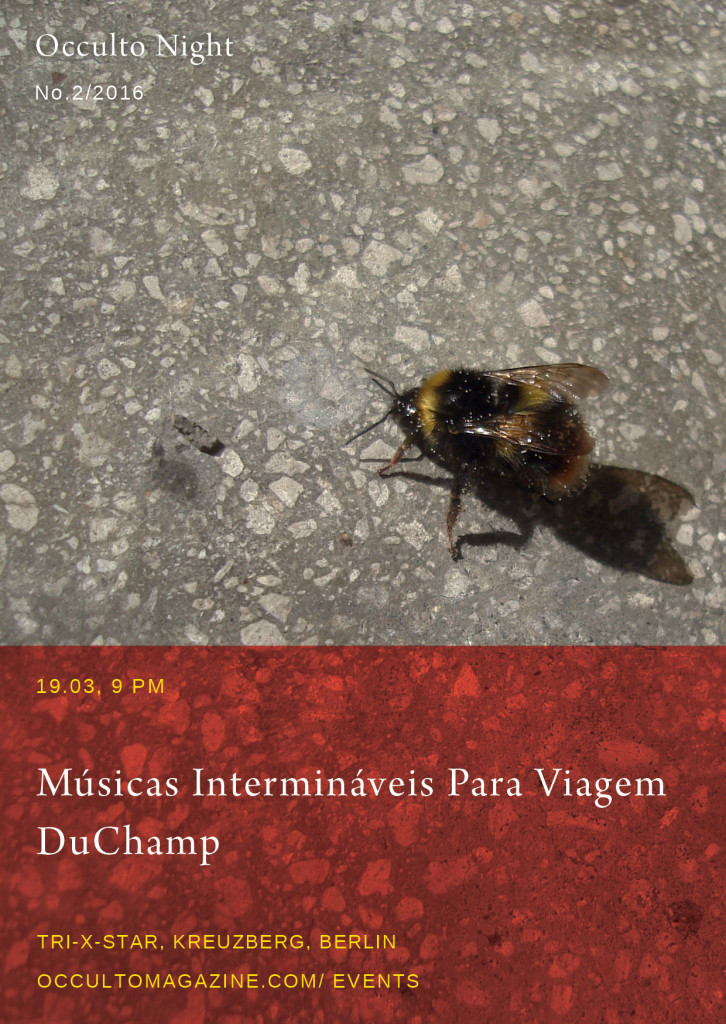 Occulto's second music evening of the 2016 season features two of our favourite (and very different from each other!) guitars in town: the psychedelic post-rock trips of LauraL of Músicas Intermináveis Para Viagem meets the deep, hypnotic baritone guitar drone of DuChamp. On this special occasion, Occulto Night is happily hosted for the first time by a nice small venue located in Kreuzberg you most probably already know about – I will call it here Tri-X-Star. If you wanna join and need more precise information drop us a line.
This is a private event for friends, listeners and readers. Feel free to invite and bring more people if you wish. Let's take time for a good chat and flip together through the magazines and records. Nice music selection before, after and in-between the shows by Nana Bianca :)
ABOUT THE ARTISTS
Músicas Intermináveis Para Viagem (M.i.p.V) plays instrumental Trip Rock (ambient rock/post-rock/post-punk), performed just with guitar and drums. The project was started by guitarist LauraL (aka Laura Leiner) and the band played its first gig in Porto Alegre back in April 2004. They are currently performing live as M.i.p.V pocket – a parallel project that presents songs from the previous albums arranged with new electronic beats. They will release their new album in June 2016, so you can expect a preview of new material and the announcement of the upcoming launch!
mipv-musik.com
soundcloud.com/mipv
DuChamp is an Italian scientist, musician and curator based in Berlin, religiousely devoted to drone. Her debut album "Nar" has been released on Boring Machines in 2013. After a split with Felicia Atkinson for Idiosyncratics, her latest work "Nectere" has been released through Full Body Massage records. DuChamp also plays in Roman Catholics, Xantene, Brabrabra, Fausto Maijstral and co-curates Occulto Fest. DuChamp's music explorations – while playing, organising gigs or running her tape label – cross the borders between experimentation and (post-)rock, improvisation and songwriting.
duchampdrone.tumblr.com
soundcloud.com/duchamp-1