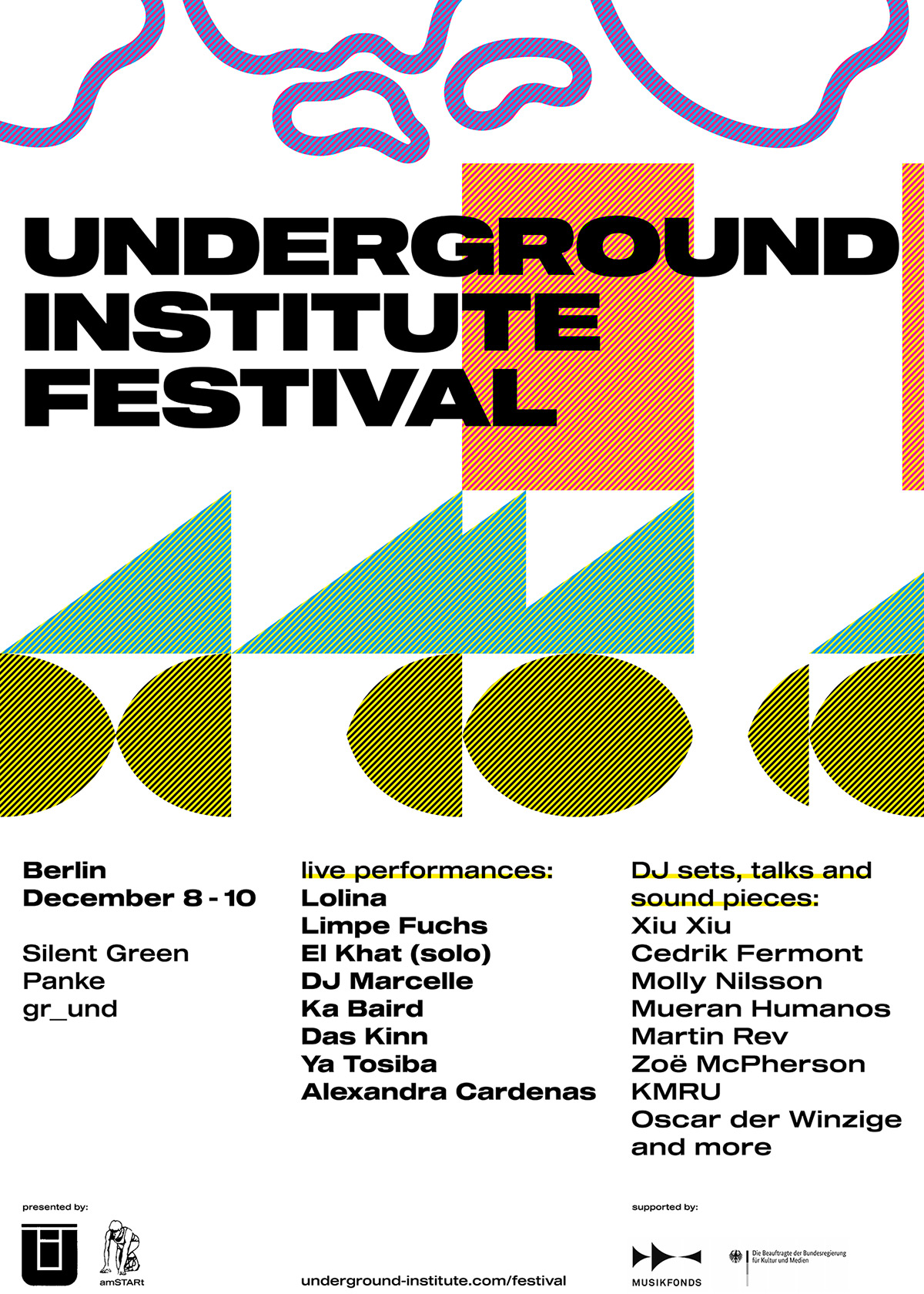 Early December feels like an unusual time of the year for a Berlin (experimental music and arts) festival – you can prove me wrong, I haven't been going out as much lately for reasons as diverse as parenthood, university papers, chronic conditions, and global meltdowns.
If it really is unusual, it's indeed the perfect time of the year for a new festival that celebrates and features female, queer, multidisciplinary, genre-bending artists, and their adventurous sonic explorations and reflections. It's called Underground Institute Festival and the first edition will take place on Dec 8-10, 2022, in three Berlin-Wedding locations: Silent Green, Panke, and gr_und. All three venues are accessible, which is a very important thing that should be taken care of much more in Berlin, no matter the size of the event.
I've been interested in the Underground Institute (UI) since singer-songwriter and artist extraordinaire Mary Ocher – who co-curates the festival with Manu Louis, in collaboration with amSTARt – first officially launched it as a booking agency and cultural platform in November 2020, during COVID-19 high time. It's nice to see it prosper and develop, and, on a more personal level, I like to get updates about its program, and ideas for possible collaborations now and then. This short announcement will be followed by comment articles on selected programs of the festival – with a likely focus on the talks and installation, but let us first experience, ponder, and maybe surprise you.
The UI festival will feature a talk by Cedrik Fermont on electronic and experimental music outside of the western standards, another about the definition of underground music with Martin Rev, Molly Nilsson, Mueran Humanos and Mary Ocher, live sets by Limpe Fuchs, Alexandra Cardenas, Ya Tosiba, an installation by KMRU, a DJ set by XIU XIU, and much more. I don't believe in wild copying and pasting from press texts, emails, or websites, I'd rather pester you with some freshly typed editorial content like the one you're reading now, and send you to the original sources for details, there:
Website: underground-institute.com/festival
FB Event: facebook.com/events/1082048139183551
Ticket presales: goout.net/en/the-underground-institute-festival/szfhrdu
Physical Tickets on KOKA36: koka36.de/the-underground-institute-festival_ticket_148791.html
Here below a small selection of videos and audios by/with artists featured in the festival. Let yourself be teased.