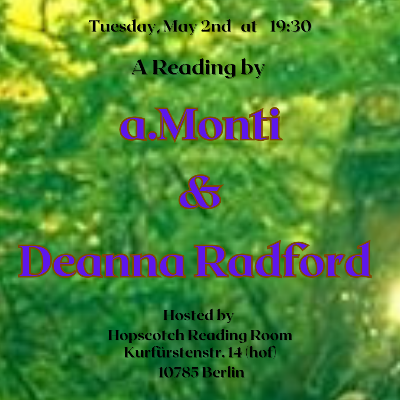 A Reading by a.Monti & Deanna Radford
Tuesday, May 2nd, 7.30 p.m.
Hopscotch Reading Room, Kurfürstenstr. 14, 10785, Berlin
Two days before performing with Cloud Circuit at Morphine Raum, Montreal based poet Deanna Radford will be part of a reading in the lovely yard of Hopscotch Reading Room. We highly recommend this event and hope to see you there.
a.Monti is a cross-disciplinary poet, editor and translator, who works with vowels and wormholes. Their projects often move through performance, sound and collaboration. Monti's poetry collection Mycelial Person (Vegetarian Alcoholic Press, 2021) has been adapted for radio as Spore Radical at Montez Press Radio. They are based between Berlin and Brooklyn.
Deanna Radford co-founded Cloud Circuit with Jeremy Young, who released their first EP in 2020 (Archive Oficielle Publications.) They recorded a full-length album in March at Hotel2Tango studio In Montréal with Radwan Ghazi Moumneh. Deanna's poetry has appeared in The Belfield Literary Review, The Capilano Review, Occulto Magazine, and others. She is revising her first book of poetry about the internet and how it intertwines with human connection, history, and the climate. Her essay on the experience of speech-to-text transcription and listening is forthcoming within a collection of interviews with poets and thinkers, Resistances and Practices in Communities of Sound, edited by Deanna Fong and Cole Mash, with McGill Queen's University Press. IG: @deezamr, https://cloudcircuit.ca