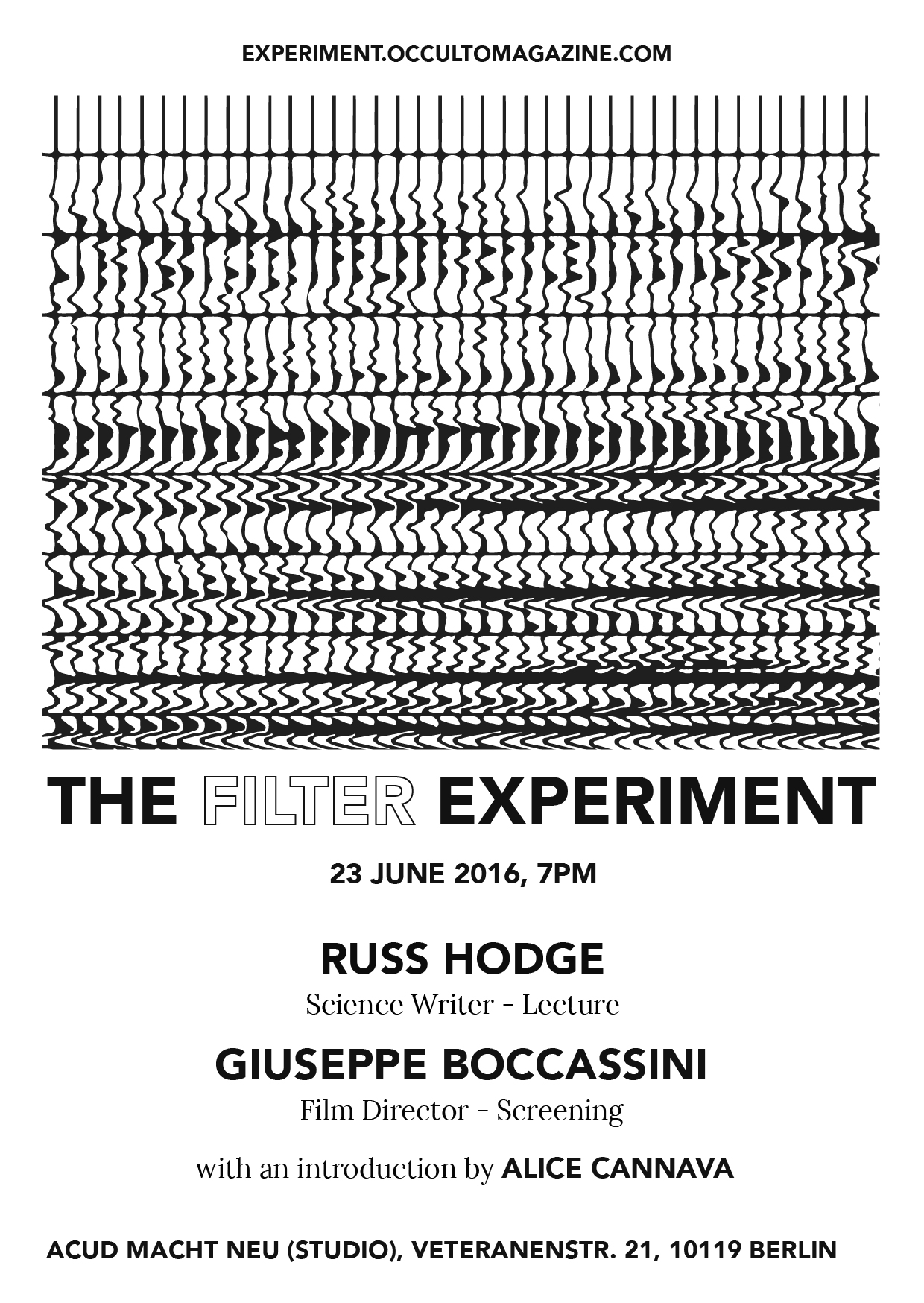 This is the first episode of a new adventure meant to become a 'live version' of Occulto and to feature some of the many cool things that one cannot possibly print on paper, e.g. film screenings, live discussions and eating dinner.
Here below some basic info but please spare some time and a click for this new (sub)website:
experiment.occultomagazine.com
There you will find more information now and documentation of the previous sessions – videos, bibliography and other goodies – later.
PROGRAM
7.15 pm: Short introduction by Alice Cannavà
7.45 pm: Russ Hodge – Talk: "Science, concept space + creativity"
8.45 pm: food break by Proper Meals
9.30 pm: Giuseppe Boccassini – Film Screening
—–
Entrance: 5 Eur
One-bowl dinner (with veggie option): 5 Eur
Fair-priced bar
Music selection in-between and after
RSVP appreciated! alice[at]occultomagazine.com
——
RUSS HODGE is an American science writer who currently works at the Max Delbrück Center for Molecular Medicine (MDC) in Berlin Buch. Previously he ran the Office of Information and Public Affairs at EMBL in Heidelberg, where he became heavily involved in science education. His work as author includes fiction, popular science and collaborative papers in peer-reviewed journals.
goodsciencewriting.wordpress.com
GIUSEPPE BOCCASSINI is an Italian, Berlin based film director. He graduated in film theory at the University of Bologna and in in film direction at The New University of Cinema and Television located in Cinecittà, Rome. He works also as director of photography and editor for cinema and television. His work has been shown in several international film festivals and exhibitions.
https://vimeo.com/farfadada
————
THE […] EXPERIMENT SERIES is a transdisciplinary open seminar organised by Occulto Magazine's editor and publisher Alice Cannava in ACUD Studio space. Scientists and artists, professional and amateurs, curious nerds and hesitant passers-by are all warmly invited to a hybrid multiformats program – lectures, artist's talks, performances, screenings, workshops, one-night exhibitions and more.
Recurring lecturers and one-time guests will include hard and soft science researchers, historians and writers as well as visual artists, film directors, musicians and designers.
Expect an informal situation, the possibility to develop a collective ongoing discussion, reports of each session with bibliographic references, good food and music.