Our 2015 season in the (ocean) abyss continues: second episode on May 29th, again in good ol' West Germany.
LIVE
Jung an Tagen (AT)
soundcloud.com/virtualvienna
Eric Arn (US)
soundcloud.com/Eric-Arn-Sounds
Raccoglimento Parziale (IT/DE)
autrecords.bandcamp.com/album/homoheterogeneity
29 May 2015
8pm – 1am
NOrtheurope/WestGermany
Skalitzerstr. 133, 10999 Germany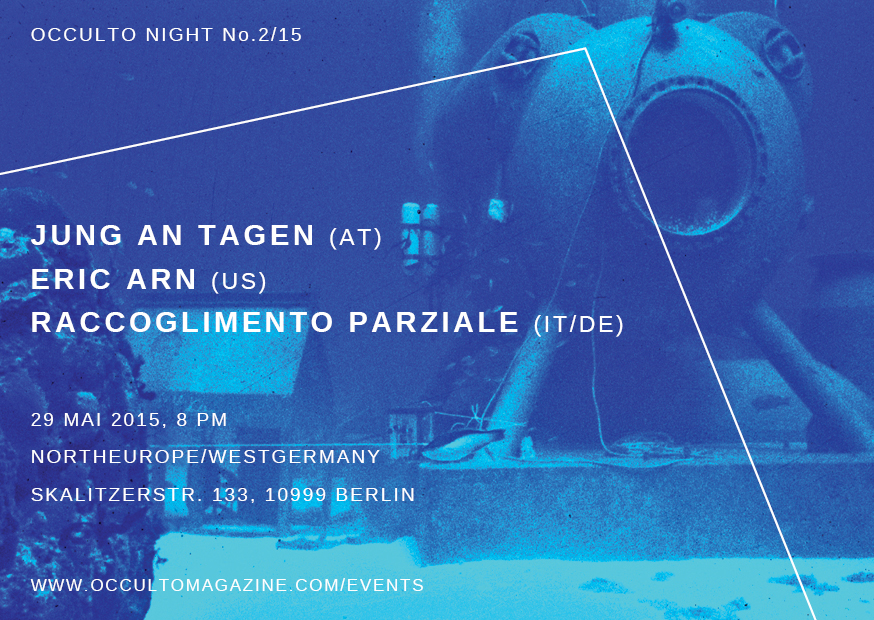 Headliners are Austrian electronic rhythmic abstractionist Jung An Tagen (Cruise Family/Not Not Fun) and American drone-guitar improviser Eric Arn (Primordial Undermind/Strange Attractors Audio House) – on top of that, we're glad to present Raccoglimento Parziale, a Berlin based duo of Italian young musicians that has released its impressive electroacoustic debut on AUT Records.
JUNG AN TAGEN
Jung An Tagen is the primary music act operating within the VIV. Using substractive synthesis and sampling techniques, Jung An Tagen builds aleatoric arrays, repetitive figures & polyrhythmic moirés circulating around distinctive timbres and haptic fragments, resulting in a vision of morphing movements between high energy and zero gravity states. In the past Stefan has mainly presented different bands & monikers – Cruise Family among others – on labels like Not Not Fun, Blackest Rainbow or his own imprint SF Broadcasts.
He has recorded with musicians such as Tom Greenwood and Didi Bruckmayr, toured Europe and America and shared the stage with artists like Whitehouse and Faust. He's also active as experimental video artist and graphic designer.
soundcloud.com/virtualvienna
virtualvienna.tumblr.com/
vimeo.com/95581656
ERIC ARN
American guitarist Eric Arn and his project Primordial Undermind have mined the farthest regions of avant-rock, free improv, drone and psychedelia for over two decades.
Arn began in the Crystalized Movements in the 1980s (the band that spawned Magic Hour and the Major Stars) and rode with the Undermind through residencies in California, Boston, and Austin, Texas before settling in Vienna, Austria in 2005. Eric continues to perform with the Undermind as well as solo, and as a member of Outer Vertex, the Soft Power Ensemble of Vienna and the Vienna Improvisers Orchestra. He released his first solo album, 'Points of Fissure', on Feathered Coyote Records in 2013.
In 2014 he has released 'Alchemy in the West Country', a collaborative album by Primordial Undermind and Thought Forms, as well as the premiere release by Outer Vertex, an out-guitar duo with Christoph Weikinger (alias Torùn).
soundcloud.com/eric-arn-sounds
soundcloud.com/primordial-undermind
soundcloud.com/outer-vertex
RACCOGLIMENTO PARZIALE
Raccoglimento Parziale is a Berlin based duo formed by Stefano Meucci and Andrea Giachetti (already members of The Clover). Their debut album on AUT Records collects eight dense tracksthat build piece by piece an arcane language, composed by electromechanical beats, powerful basses, digitalized guitars and broken samples, assembled in a liquid and fluctuating atmosphere. Homoheterogeneity is a microscope's view, a revealing blow-up over a cloud of micro-sounds, sometimes digital, sometimes organic. It's a discovery of new life forms, homo/heterogeneous to our eyes – and to our ears.
autrecords.bandcamp.com/album/homoheterogeneity