Saturday May 13, 9pm
NOrthEurope/WestGermany, Skalitzerstr. 133, Berlin
Info and press: alice[at]occultomagazine.com
FB Event: facebook.com/events/127932071083694
PROGRAM
Billy Roisz – Screening, A/V Solo Set
billyroisz.klingt.org
Billy Roisz & JD Zazie – Duo Set
jdzazie.tumblr.com
jdzazie.tumblr.com/billyroiszjdzazie
Ignaz Schick & Toshi Nakamura – Duo Set
soundcloud.com/ignazschick
japanimprov.com/tnakamura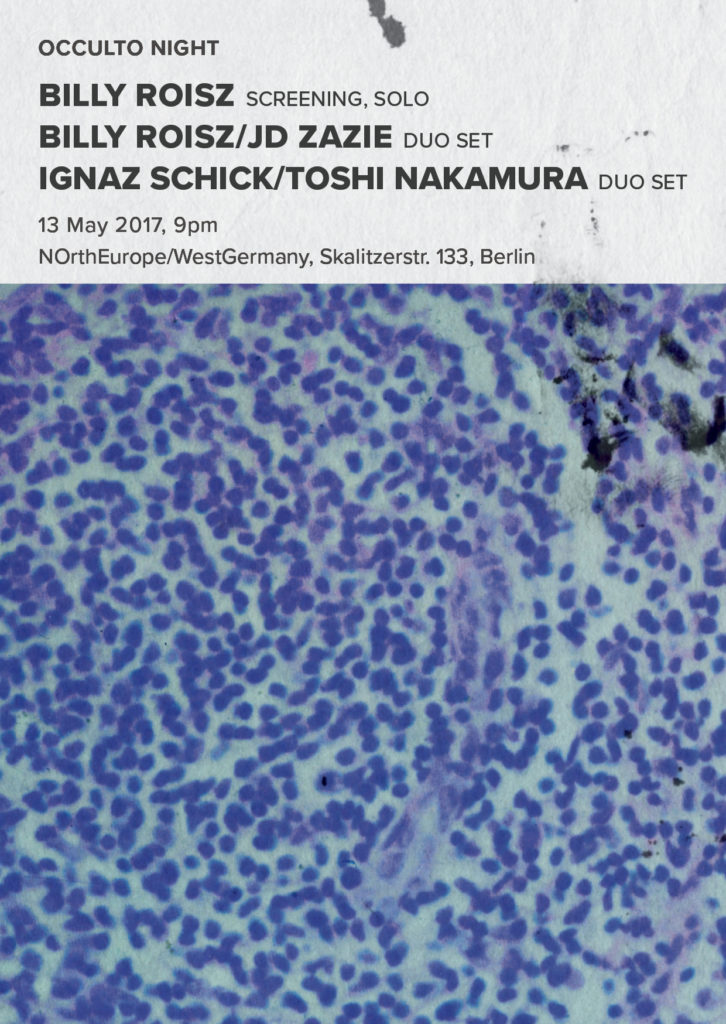 The second Occulto Night of 2017 is coming! We're happy to announce the duo set by Billy Roisz & JD Zazie (their collaboration has started in 2014, at Depopulate 04 Festival in N.K.). On the occasion, we'll present a broader spectrum of Roisz's work: a screening of selected films and a solo audiovisual performance.
The program features another special duo set, by Ignaz Schick and Toshi Nakamura.
The evening brings into play several features, things and topics Occulto cares about and loves: women in electronic music, soft and harsh noise, unusual beats, DJ tools (used as instruments), experimental film, Vienna, Berlin, and labels such as Burp Enterprise and Mikroton Recordings. Join us for a sonic and visual special adventure.
ABOUT THE ARTISTS
BILLY ROISZ
Since late 1990s, Billy Roisz has dealt intensively with video and sound. Her work focuses on the links and gaps between visual and auditive perception. Roisz questions the interaction between sound and image, the interchangeability or unity of the electromagnetic signal in the generating machines which creates image or sound. The realisation of her experiments takes place in live performances, single screen works and audio-visual installations, solo or in collaboration with musicians of experimental music and noise as well as composed new and old music, dance and theatre.Billy Roisz lives and works in Vienna. Her video works are distributed by sixpackfilm. She is co-organizer/programmer of annual REHEAT festival.
billyroisz.klingt.org
www.sixpackfilmdata.com/filmdb_persons.php?persid=3201&len=de
JD ZAZIE
is a DJ, turntablist and sound artist. As a solo performer and in her many collaborations she explores different approaches to real-time manipulation of recorded sounds. Intended as music instruments, CDjs, turntables and mixer are her tools to mix the chosen sound sources – mostly electronic and electroacoustic music, musique concrète, field recordings and impros. Juxtaposition, decontextualization, fragmentation, repetition, sonic texture, scratches and errors are all elements of the grammar she has adopted to relate, organize and rearrange the sound material. JD Zadie was born in Bolzano and lives and works in Berlin. She is a member of the Italian label Burp Enterprise and co-runs Staalplaat Radio.
jdzazie.tumblr.com
www.burpenterprise.com/burp/units/jd-zazie
TOSHI NAKAMURA
Toshimaru Nakamura's instrument is the no-input mixing board, which describes a way of using a standard mixing board as an electronic music instrument, producing sound without any external audio input. The use of the mixing board in this manner is not only innovative in the sounds it can create but, more importantly, in the approach this method of working with the mixer demands. The unpredictability of the instrument requires an attitude of obedience and resignation to the system and the sounds it produces, bringing a high level of indeterminacy and surprise to the music. Nakamura pioneered this approach to the use of the mixing board in the mid-1990's and has since then appeared on over one hundred audio publications, including nine solo CD's.
www.japanimprov.com/tnakamura
IGNAZ SCHICK
Ignaz Schick is a turntablist, sound artist, performer & composer. He studied saxophone before starting to experiment with many different instruments and devices. From the middle of the 90s onwards he has almost completely shifted towards live-electronics, developing his own unique electro-acoustic set-up which he calls "rotating surfaces". Various objects and materials such as wood, metal, plastic, paper or violin bows and cymbals are played directly on the rotating metal plate of the turntable and the vibrations are amplified with a small condensator microphone. With this set up he covers many different styles of contemporary experimental music – ranging from extreme reductionism via ambient, industrial, musique concrete, electronica to harsh noise. Since 1995 he lives and works in Berlin. Since 2005 he has realized several sound installations, and given lectures & workshops about experimental turntablism and improvisation.
soundcloud.com/ignazschick
zangimusic.wordpress.com/ignaz-schick
– – – – – – – – – – – – – – – –
BILLY ROISZ – SCREENING PROGRAM
paris, 2017, 4min.
music: MoE, from the album Examination of The Eye of A Horse (conradsound / wallace records, 2016)
conradsound.com
wallacerecords.com
facebook.com/moepages
The lyrics focuse around being seduced by war and the fight between judgment and salvation. An imaginary total collapse of the world or a prewarning of judgement day, tangled around and brought to its surface by misuse of power and power of religion; like a cut up news report or a musical of a documentary by Adam Curtis.
Somehow the musical ideas behind paris combine inspiration from Dan Lilker-related projects, such as Nuclear Assault and SOD, to our more 'traditional' noise and experimental influences. The track was untitled until the Paris attacks on November 13th, 2015.
–Guro S. Moe
paris is in a literal sense made out of the music. MoE gave me the separate tracks of all intruments which they recorded in their studio – and out of this single soundtracks I was weaving this video.
–Billy Roisz
The Norwegian band MoE has focused on expanding DIY attitudes from the 80s and 90s, especially inspired by great thinkers and autonomous musicians like Steve Albini, Greg Ginn and Ian MacKaye. Mixed with their own attitudes and with their background from noise and contemporary music.
With countless collaborations exceeding the borders of rock and noise, MoE seeks the absolute presence in the execution of the music.
The intensity of the music has created resonance in China, Japan, Vietnam, Mexico, Thailand, Malaysia, Australia and numerous other countries and makes the band one of the most adventurous DIY bands in Europe.
Close Your Eyes 2009, 13min.
soundtrack: dieb13
a video inspired by Henri Michaux's mescaline experiments in the 1950s.
In Billy Roisz's Close Your Eyes knocking and rhythmically vibrating sounds take us from a black picture into a darkened room, its shades pulled down. At the film's beginning a positive and negative image of a window that references this space reveals its function as a projection screen in hypnotic, almost psychedelic audiovisual compositions. Roisz skillfully takes us further, from this real space in the beginning sequence to abstract black-and-white images composed of fine lines that move in time with the fragile soundtrack, turn into dotted lines, then immediately puncture this linearity. High-frequency sounds and scratching noises by the musician dieb13 and arrangements of images that dazzlingly flare up cover these vertical lines to an ever greater extent. At first, a shadowy detail of the window leads back, again and again, from the fast pace of abstract images to that of the private space for brief moments. Accompanied by shrill high-pitched sounds, distorted brass instruments and gentle psychedelic noises, the viewer is lead into hypnotically colorful graphic compositions. Occasionally recognizable in a trance-like flurry of images, at second glance an image of a herd of hippopotamuses or grazing giraffes, tinted pink, reveals itself for a few seconds at a time. Vibrating yellowish-gray stripes flow into a black-and-white striped pattern, calling a herd of zebras to mind. Black frames punctuated in staccato fashion then show the window, heralding the end of the delirious dance: the return to the "real space." Billy Roisz, inspired by the hallucinogenic experiences of painter, writer and poet Henri Michaux, has undertaken a fascinating trip into the abstract and absurd and to the limits of our perceptive ability.
–Christa Auderlitzky
TOUTES DIRECTIONS 2017, 14min.
an experimental road movie by Billy Roisz & Dieter Kovacic
sound: Radian, Dieter Kovacic, Billy Roisz.
Billy Roisz's and Dieter Kovacic's most recent work contemplates the moving image – in a close association with the avantgardes of the 1920s – as visual music, more precisely: as music that originates in the visual, produces itself from the visual. In contrast to most works by the two, it is not abstract forms but streets and landscapes that dominate the image; shine through relatively clearly, to then pass over into the abstraction of the sound world. In this way, the picture becomes a sound space (generated by the two artists in collaboration with the trio Radian) in which rhythm, timbre, and noise connect along the horizon to a timeline.
"All directions," as the title states, describes both the movements of the image (along the world, into the pictorial depth, upward in treetops rushing by, and downward, gazing at the crumbling patina of the country road) as well as an aesthetic experience, which is presented by the visual as music, the acoustic as motion picture, and the real world as abstract pattern. A thirteen-minute road movie into the night in which real things blur in order to appear as pure form, pure movement, pure light, and pure sound.
–Alejandro Bachmann