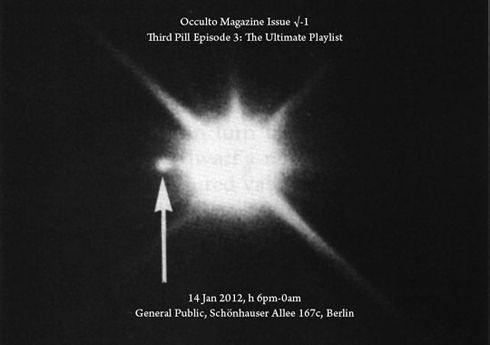 The time has come: 300 kilograms of glossy paper bringing together science, humanities and the visual arts finally arrived to Germany and are ready to meet you. Wir freuen uns auf euch!
THE ULTIMATE PLAYLIST
The Apocalypse is round corner, and we do want to be prepared. Occulto Magazine asked some brilliant composers, musicians and other music professionals to recommend old and new tracks that can help us on the way.
DU CHAMP – liveset
duchampdrone.tumblr.com
TATSEMME (Tatsumi Ryusui + EMME) – liveset
BORING MACHINES DISTRO!!!
We will be proudly distributing Boring Machines music releases this time and during all the future Occulto Magazine shows and events.
www.boringmachines.it
General Public
Schönhauser Allee 167c Berlin
14 Jan 2012
Opening time: 6 pm